Classic Mushroom Pie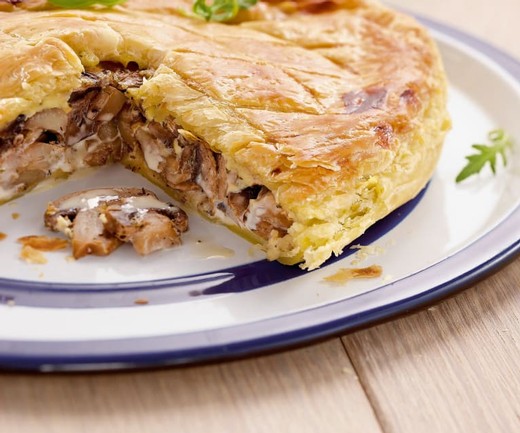 Recipe Date:
November 9, 2019
Measurements:
Imperial (US)
Ingredients
2 lbs Sliced bella a/o chanterelle mushrooms
2 tbsps Olive Oil
2 2 Sheets Puff Pastry
1 cup Shredded Swiss Cheese
1 cup Sour Cream
1 tbsp Dried Thyme
1 Egg Yolk
Salt & Pepper to Taste
Directions
Pre-heat your oven to 350F
Pour the olive oil in a sauce pan, cook the mushrooms at medium temperature for 15minutes. Salt and pepper to taste.
Turn the heat off and add the sour cream , parsley, thyme and cheese.
Place one puff pastry sheet on a baking pan, spread the mushroom mix. Place the second puff pastry sheet on top of the mixture.
Seal the puff pastry all around.
Beat the egg yolk with a fork and add a little bit of water to thin it out.
With a pastry brush, brush the pastry with the egg yolk.
Bake for 30 minutes. Serve with Turkey.
Anne's Pairing - 2016 Coury Clone Pinot Noir
The classic earthy, herbal notes Coury Clone is famous for highlight the mushroom and thyme while its rustic structure is a perfect match for the hearty pastry.