Rillettes de Saumon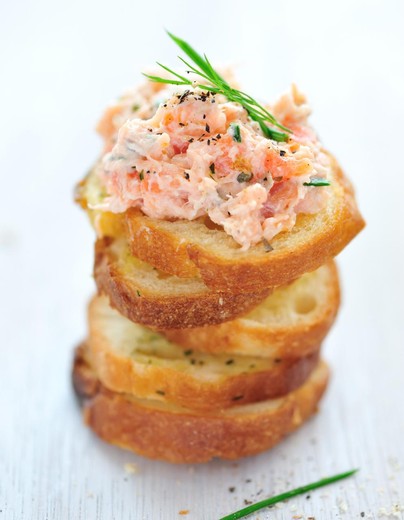 Recipe Date:
November 9, 2019
Measurements:
Imperial (US)
Ingredients
7 ozs Fresh Salmon Filets
2 1/2 ozs Smoked Salmon (thinly sliced)
1/4 tsp Lemon Zest
2 tbsps Creme Fraiche
1 1/2 tbsps Butter (softened)
5 Chives (finely chopped)
1 nutmeg (pinch)
Pepper & Feur de sel (to taste)
1 Baguette (sliced and toasted)
Directions
Fill a medium saucepan halfway with water, bring to a simmer, add fresh salmon and poach for 6 minutes, then remove with a slotted spoon and drain. Set aside to cool.
Place the smoked salmon and lemon zest and juice into a medium bowl.
When the cooked salmon is cool, shred it into very small pieces with a fork into the bowl
Add the crème fraîche, butter, chives and nutmeg and mix well with a fork. Season to taste with salt and pepper and cover.
Leave to set in the refrigerator for 2–3 hours.
Serve on toasted baguette slices
Anne's Wine Pairing - 2017 Hyland Chardonnay
Flavors of nutmeg and smoke play with the toasty oak aromas on the wine. While lemon zest highlights the brighter fresher notes of our crisp Chardonnay.