Shane's Coconut Shrimp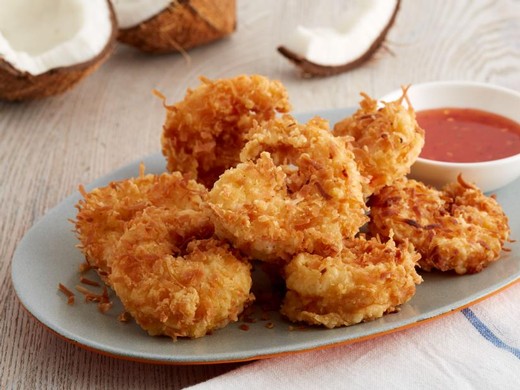 Recipe Date:
March 30, 2020
Measurements:
Imperial (US)
Paired with a delicious bottle of 2017 Chardonnay from our distinctive Clone 108, these shrimps, packed with coconut flavor and dipped in a delicious spicy-marmalade sauce, are sure to evoke some much-needed tropical vibes!
Ingredients
1/2 cup Orange Marmalade
1 tsp Horseradish
2 tsps Stoneground Mustard
2 Dozen Shrimp (Tails On)
1 cup Flour
8 ozs Beer
1 Egg
1 cup Shredded Coconut
Directions
Dipping sauce for shrimp:
Mix ½ cup orange marmalade, 1 teaspoon prepared horseradish, and 2 teaspoons stone-ground mustard in a small serving bowl.
Refrigerate for at least 1-hour before serving.
Shrimp:
De-vein and peel 2-dozen medium sized shrimp, leave tails on
Press the shrimp into a bowl with ~1 cup flour, make sure to fully cover
Dip the shrimp into a bowl with blended together 8oz beer + 1 egg
Roll the shrimp into a bowl with ~1 cup coconut (depending how coconut-y you want your shrimp, you can add some panko breadcrumbs, but coconut is the way)
We don't all have deep-fryers readily available... so I just use a deep saucepan and pour ½ in deep vegetable oil into the pan. Preheat on medium for ~5 minutes.
Small batches of shrimp (5-6 at a time) flip after 2-3 minutes or until deep golden-brown color, cook for 2-3 more minutes, then place on paper towel/small rack to dry them out.
Pop that cork, put on your Hawaiian shirt, play some Reggae, and dream of tropical days.