Upcoming Events
Hyland Estate Block Party
Friday, August 24th 6:30-8:30PM
@ Hyland Estates Tasting Room.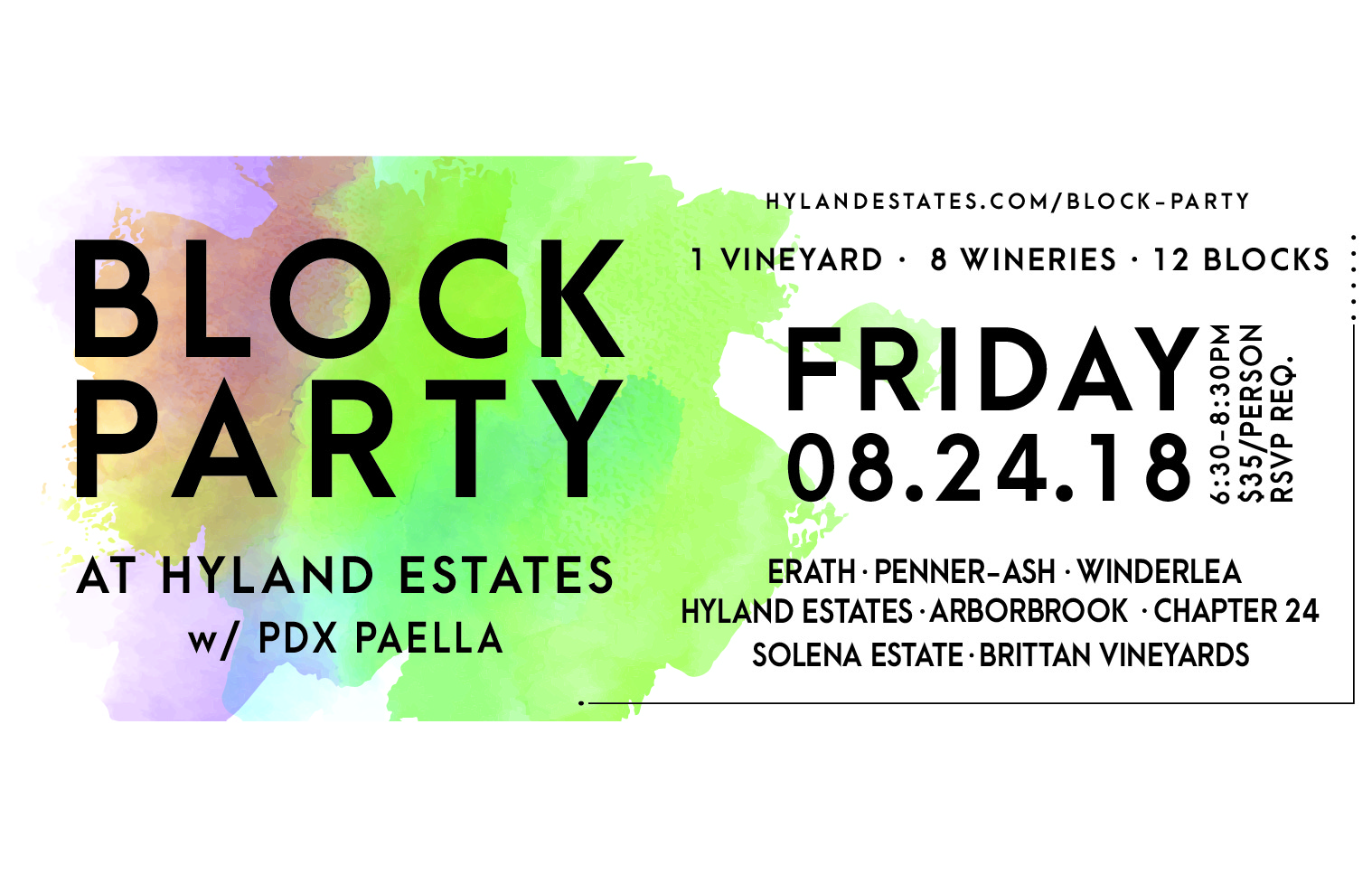 Eight wineries all whom source fruit from Hyland Vineyard will meet for a block party with games, food and live music. The evening is in celebration of the iconic Hyland Vineyard and will feature two wines from each of our neighbors and friends who use Hyland fruit each year. The evening will offer guests the opportunity to taste up to 16 different wines, across a handful of blocks and varietals all from the same vineyard.
Though the wines all come from one place, Hyland spans over 200 acres and differs vastly in elevation, clone and vine-age, all factors that when mixed with different winemakers and technique allow for a lot of variety in style and approach. Joining the wineries will be the legendary Jimmy from PDX Paella and live music from the Ian James Band. Tickets are $35 for the general public or $30 if you're a member at one of the participating wineries.
Wineries in Attendence: Penner-Ash, Brittan, Winderlea, Solena Estate, ArborBrook, Erath, Hyland Estates, Chapter 24
---
Hyland Estates' 2018 Bounty of Harvest Celebration
(Members Only Event)
When: Friday, August 31st 5:30-8:30PM
Where: Hyland Estates Tasting Room

Combining the very best fresh and aged culinary wonders from France and Oregon.
On the menu: Oregon Albacore, Steak, Fresh Veggies, Salads, Baguettes, French Cheeses, Charcuterie, & a Dessert Compliation courtesy of the Hyland Winemaking Team. Special thanks to the Chefs at The Barberry in McMinnville who are coming out to help cook up all of this goodness.
Tickets for this giant feast are available to Hyland members only for $45.
Tickets can be found here: /product/Harvest-Party-Ticket
---