---
Why Attend Wines & Paradise?
We know that exploring new wines can be a daunting task, especially when browsing online. Scores alone are no way to make a purchasing decision, and many of the bottles we see on shelves and websites we don't know and have nothing to compare them with. This is where years of retail wine knowledge and passion for all types of wines from a trustable source can pay dividends when looking to up one's wine knowledge and discover new and hidden gems.
Wines & Paradise is our monthly wine class taught by our beloved tasting manager, Joe Paradise (WSET Diploma Level 4 & CSW). Each month, Joe picks a new theme to dive into featuring wines throughout the world. Classes are fun, educational and always come with wine and small bites.
Tickets are just $15/person or $10 for Hyland Wine Society Members.
---
This Month...
Everything Old is New Again:
A comparative tasting of Old World wines and their New World Counterparts
Thursday, Jan 23rd
6:00-7:30 PM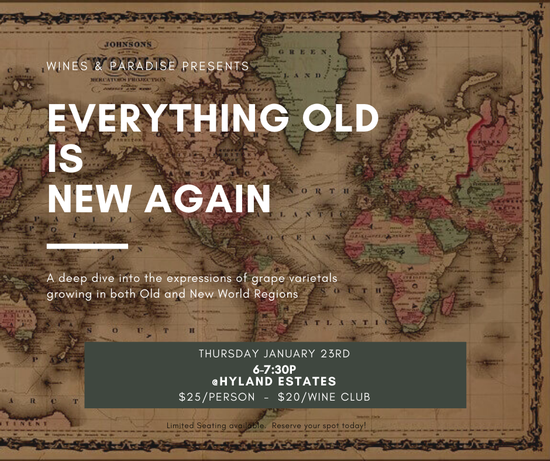 As the first class of the new year, Wines & Paradise will look this month to the Old World. We'll taste through some key Old World growing regions as well as the New World vineyards they inspired. Using classic examples of Malbec, Cabernet Franc, Sangiovese, and Riesling from both Old and New World regions, we'll spot connections that tie the wine world together, and the stylistic differences arise through terroir and technology.

---
Joe Paradise in Action:
Photogallery rendered here.
---