Hospitality/Healthcare Unending Gratitude Packs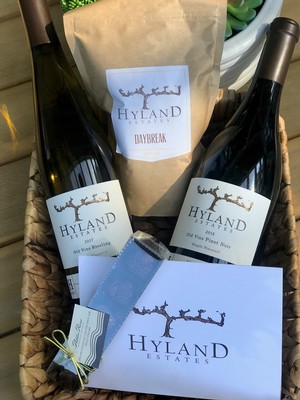 Send a gift to the Essential Person in your life. The Hyland HUGG (Hospitality/Healthcare Unending Gratitude Gift) Pack includes some pick-me-up items from right here in Oregon to keep your friends, family, or local heroes going. Each 2 or 5 bottle box contains an assortment of Hyland's favorite red & white wines, a bag of Caravan Coffee, and a box of Pinot Noir infused chocolate truffles from Puddin River Chocolates. Include a personalized gift message & we'll add it onto a lovely card. As a show of our unending gratitute, 10% of the proceeds from every box will benefit Oregon Food Bank.
One bottle of 2020 Estate Rose and 2019 Old Vine Pinot Noir packaged with locally produced coffee & chocolate. Show your gratitude to a Healthcare or Hospitality worker with the perfect Oregonian Care Package.
Give a big HUGG to someone special in your life. Caravan Coffee & Puddin River Chocolates are paired with the 5 most essential Hyland Wines, including our dry whites & old vine Pinot Noirs. HUGG 5 Pack includes complimentary ground shipping*.

*Outside CA/OR/WA 3-day air shipping
is suggested during Summer.
Contact us at 503-554-4200 for info.